Quality UV Protection for Horses' Faces and Eyes!
ABOUT
Custom designed UV proof masks for horses with white faces, fair skin, eye conditions and more!
Our Products
• Full line of UV proof shades
•. Extremely durable and effective
•. Screen material is mildew and fade resistant the highest quality available.
° Will not fray or tear
•. Made in the USA
• All materials are 90% UV proof

OUR MISSION



To provide workable solutions for horses with fair skin or eye conditions, so that they may live better lives.
We also have an Interchangeable Eye Cup Saver System one hood system to treat either eye providing convenience for Veterinarians or barn owners who have to treat an injured horse. Lots of sizes and options, can even have a cup on both eyes.
Nag Horse Ranch is solving horse UV exposure problems around the world!
Founded 2010 after purchasing a horse with a white muzzle and discovering the damage that exposure to UV rays does.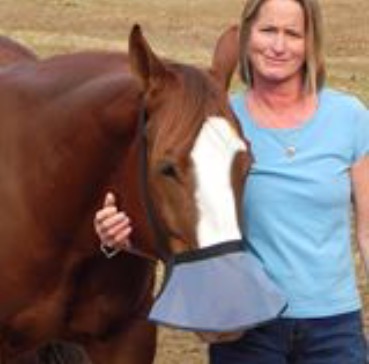 RECENT WORK UV PROTECTION
New Wither Cover!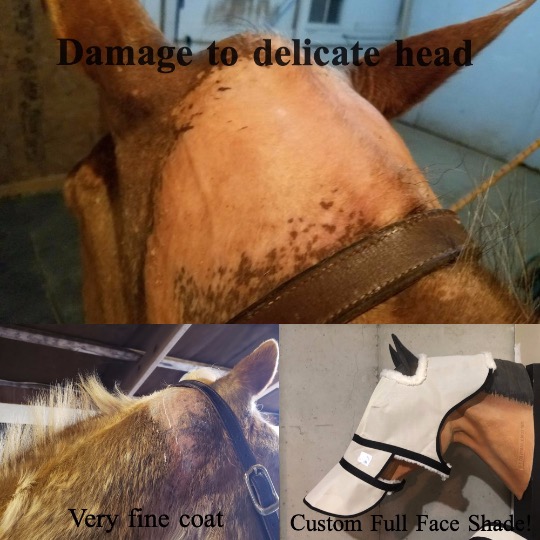 Horse losing coat with fair skin we made him a custom shade extending over his sensitive spot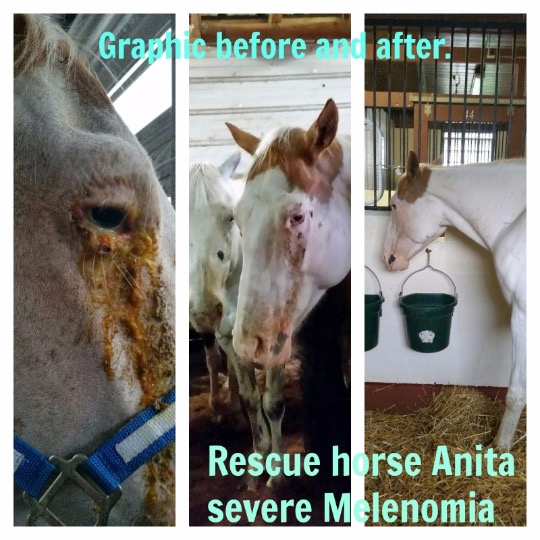 Anita a rescue with severe Melanoma
before and after!
Smooth Healthy Happy Pink Muzzle!
Used your eye mask for the first time today and all I can say is WOW! The thought put into the design is wonderful. It fits the horse so well and makes our job easier.
The padding is in all the right places and the holder at the top for the lavage tube is great!
Erica Lacher DVM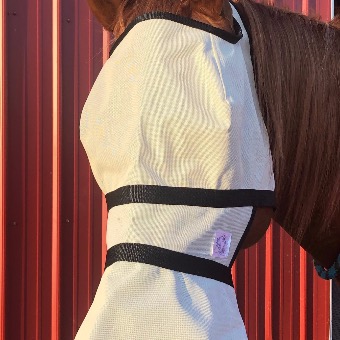 Nag horse Ranch in the U.S. She is on FB as a friend :) ABSOLUTELY the best ever design. Lambswool padded and allows them freedom to eat and drink. I also have full face ones for when it gets really hot and flies start. NAG HORSE RANCH CHECK THEM OUT ! BETTER THAN ANYTHING ON THE OZ MARKET.
Suzanne Cherry Australia
"Living in Florida means we battle sun and heat all year long. Our mare has a very nice pink nose that burns easily. I have tried everything to keep her from burning. Sunscreens, diaper creams, and long nosed fly masks have been the only tools available to work with. However the fly mask doesn't block enough UV, makes her sweat excessively and thus renders the sunscreen useless. She has also had some adverse reactions to some of the sunscreens. My search for an alternative has been exhaustive. After a week with the Nag Nose Shade I already see huge improvement! It is not restrictive or hot. It also is not rubbing her face the way the fly mask did. I am not having to keep applying lotions and creams either. If you have a pink nosed horse do yourself and your horse a huge favor and try this new product. I love it! Sassy's mom,"
Linda Minnix - Lady Lake, FL.

"Sue, I could not go any longer without telling you how wonderful your eye saver cup system is for any horse needing that extra special care for their eye. I have had this mask for over a year, not only has it held being on my mare it has greatly improved the care of her eye. I have had to have her eye drained 3-4 times/year due to an injury to her lid prior to my adopting her. With this mask on her this past year I have had to have it drained only one time. Truly amazing for me and my mare. My Vet loves it very much and has recommended to others in my area. I am so thankful I found your site on line. Dealing with you is always a pleasure. One more than satisfied customer,"
Karen McGarrah

"Hi Sue,I went to visit my horse Midas yesterday at his holiday paddock in 40 degree heat (104 degree Fahrenheit!) and have sent you a few pictures. We've always had issues with sunburn on his pink nose (and all horses WILL stand directly in the sun sweating away even though they have the option of shade!). Fly veils are problematic in these sort of temperatures as he sweats profusely under them, then usually itches them off (and hides them somewhere in the paddock ). I've tried all sorts of nose flaps for him but the issues were always the same : None of the nose flaps were long enough they end up clinging to his nose after he's finished drinking which obstructed his breathing, so he would stand and snort them off ,turning them into something that resembled a permanently used tissue, which in turn attracted swarms of flies! The cloth nose flaps don't attach to my field-safe halter either, so I would have to find ways of sewing them on-which in turn made washing difficult. The nag nose shades are a real find for me! Not only do they withstand the roughest treatment (see attached pictures),they also don't seem to irritate him AT ALL. Because the flap is shaped OFF the nose he has no problems eating and drinking and he no longer feels the need to constantly blow his nose in it! As the fabric goes right around the muzzle there is no chance of sunburn (even for the pink areas around his bottom lip!).Also the quality and workmanship of the product was a real surprise! The fabric velcro and stitching are seriously heavy duty. I can't thank you enough for putting so much thought and work into the humble "nose flap". Cheers, Kim-New Zealand
Kim Evans

"Hi, I have recently purchased your sun protection nose shade for my mare, I felt the need to provide you with the feedback on your product. My mare used to run away from me when i was trying to put on her previous nose shade, she would rub on everything until she ripped it or turned it upwards on her face making putting it on her in the first place redundant. I am surprised and elated to say that after one week of wearing her new nose shade made by your kind self, she no longer runs' away, rubs or even bothers about the shade. AMAZING job, it has been difficult to take care of her by putting protective gear on her and not to feel bad about it (she clearly hated the hell out of her old one), now I am able to protect her and feel good about it too. Thank you so much. I will be recommending you to EVERYONE that I meet, Regards"
Heidi "Sue, I ordered one of these for my gelding and so far….I love it! I was worried his pasture buddies would tear it off him and so far, it's stayed on and NO sunburn! I've been recommending it!!! I've tried everything to keep him from burning as his nose is so pink and our high altitude causes him to crack and bleed on his nostrils. You can't keep enough sunscreen on him; as you can see, he has a VERY pink nose! Thank you for a great solution to the sunburn problem!

The durability and strength of the materials is superb! Honestly, I am impressed he hasn't gotten it off…it's so bad I used to have to duct tape his fly masks onto his leather halter!! Thank you!"
Sarah Schiffman and "Bizmo" - Wellington, C
U
"We here at Barrow Vets have 2 complete eye cup/mask systems. We love them! We've had patients who definitely benefit, and it's nice to be able to loan them out as part of a comprehensive eye treatment plan for ulcers, uveitis, or injury. Just thought you'd like to know. Sincerely,"
Practice Manager, Barrow Veterinary
"My cob suffers from sunburn on her nose. She won't allow me to apply suncream. Having tried products available here in the UK (which caused chaffing and rubbing) I took to the internet and came across Nag Horse Ranch. Sue was extremely helpful and friendly. I've bought two of her nose guards. They wear very well and the design is perfect in that my pony is more than happy to wear it and it stays on with no chaffing or rubbing! I would highly recommend these nose guards to anyone who has a pink nosed horse."
Christiane Mcalpine - United Kingdom
"Having a Paint with a pink muzzle, we had already been through one skin cancer removal – Cody hated having sunblock and zinc applied everyday (and in the South, it is a long, hot summer!). I purchased the halter free nose shade years ago – it is amazing! Cody comes over and practically puts it on himself.
It is not hot, it never is off out in the field, it flares out enough to protect him and not interfere with eating or drinking. The cost was minimal for the years it has lasted! Just buying my second one as well as one for a friend!! And no worries of skin cancer since!!! Thank you, Nag Horse Ranch!!"
Tricia Leslie
Please fill in the form below if you have any questions, request or remarks you want us to know about. All feedback is greatly appreciated and all we strive to answer all questions in a timely manner, if you don't hear back please try again or let us know.
Thank you
FREQUENTLY ASKED QUESTIONS
Are the shades washable and do they lose their UV protection from washing or time?
Shades are washable and never lose their UV protection. They do well if you just hose them off with the jet stream of your hose from time to time. Also they can go in the washing machine on a gentle cycle and can be put in the dryer for a short time to remove any wrinkles! They wash great!
How do I know what size?
Generally you would choose the size that your horse wears in a halter or bridle. There are times we have to do a custom shade for a horse that is a little different in a part of his/her head if we do that we keep the information on file for any future needs! If you have questions or concerns about choosing a size feel free to give us a call at 770-990-8487.
Also if you get a shade and it does not fit we will immediately switch it out for another size. Just give us a call or email.
How do I track my order status?
Our system does not automatically send tracking information to each customer however if you put in the comment section that you'd like tracking we can email it to you. We keep a large stock and ship fast all US orders are priority mail so they arrive in a few days. If you ever have a question you can email us and we will check the status and send you tracking. International orders generally take about 7 business days.
Is there a warranty or guarantee?
We take pride in our work and stand behind our products, if there is a flaw in the making of the shade we will fix it. If a horse tears a shade we offer repair at a minimal fee. If you receive your shade and it does not fit we will switch it out for another size immediately. If you receive your shade and just find it is not what you need we will happily refund your purchase price upon receiving the shade back in new condition.
Other information
We are highly recommend by Veterinarians around the world!
Our shades save horse owners time, money, hassle and the health of their horse.
Shades are designed for comfort with the strongest materials on the market for durability.
You may laugh at first sight of a nose shade on a horse we have been told it reminds people of a cone on your pet after leaving the Veterinarian, but horses don't care they love their shades!
Here's Our Categories Click on the one you wish to visit in Our Store